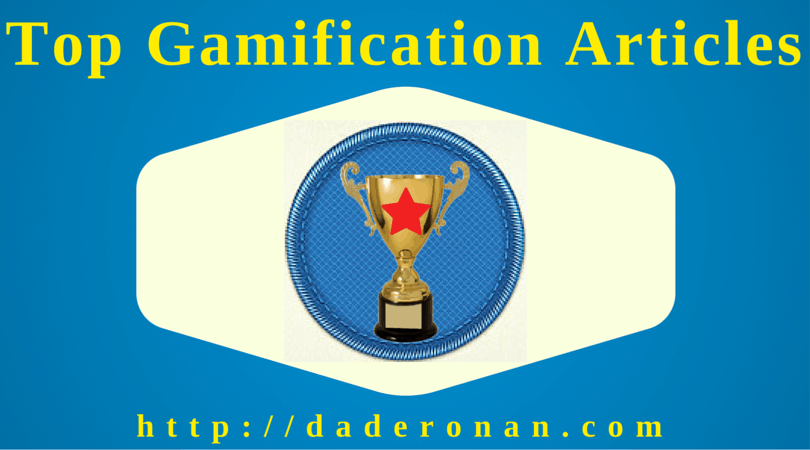 Top 5 Gamification Articles: October 2015
What is the Top 5 Gamification Articles and blog posts for October 2015? Ranked by Twitter engagement count according to Topsy's search and analytics. 
The dates of Twitter engagement are from October 3 to November 2 of 2015 at Topsy.
What better way to exemplify gamification's points, badges, and leaderboards (a.k.a. PBL), then by awarding Top 5 Gamification Articles to authors who write about gamification.
Points are the total Twitter engagement count. Taken as a snapshot in time for the duration of a particular month. The top 5 winners are then awarded a badge.
The leaderboard is a ranking of those top 5 gamification articles.
Keep checking back. As new post created once a month crowning the Top 5 Gamification Articles.
Below are the top 5 winners ranked in numeric order. The #1 ranked position is the champion for this month.
As an award to the authors of these articles, I am giving you a special badge that you can put on your website.
Congratulations for your hard work and excellent gamification articles.
Get the Top 5 Gamification Articles badge at the bottom of this post.
Note: Some of these articles and posts are still receiving Twitter activity. Their numeric count will be higher from the time the original Twitter engagement count. As a result of the increased Tweet count, the data will change over time. So, if you go back to Topsy, you will not get the same snapshot that took place on the same dates for these articles.  

There is no doubt that gamification is causing a great interest in various socio-economic fields. In this post we are going to explain several revealing statistics about the growing importance of this issue. Read More…
Topsy Tweet Count: 344
By: Albert Mora @amoracarreno
97% of youth play #computer and #video #games. #gamification @amoracarreno
Click To Tweet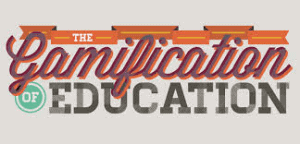 Research suggests that once these young learners enter a classroom, however, learning through tech "games" disappears. Families may still choose to buy the apps and use them at home but schools are slow to bring gamification of education into their classrooms. Read More…
Topsy Tweet Count: 258
By: Matthew Lynch @lynch39083
#Schools are slow to bring #gamification of #education into their #classrooms. @lynch39083
Click To Tweet

Gamification in eLearning is fast emerging as an effective technique to engage learners.  It has found its place under the sun for serious learning (that is, meeting specified learning outcomes). In this article, I will share 6 examples that outline how we have created immersive learning experiences using gamification for varied training needs like induction and onboarding, professional skills enhancement, compliance, soft skills enhancement, and behavioral change programs. Read More…
Topsy Tweet Count: 106
By: Asha Pandey @eidesignlearn
6 Examples outline immersive learning experiences using #gamification. @eidesignlearn
Click To Tweet

If you have been around the elearning world long enough you have probably heard of using games in learning. You have probably heard of gamification. Chances are you have also heard of game-based learning. In the situations where you heard these terms being used you likely thought that they were referring to the same thing. However, to some people these three are entirely different. Read More…
Topsy Tweet Count: 61
By: Justin Ferriman @learndashlms
We see #gamification on nearly a daily basis. #games #elearning @learndashlms
Click To Tweet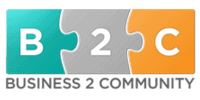 In a highly competitive business environment having any edge is an advantage. Implemented correctly gamification will not only give your business an edge over your competitors but it will also help to make your business sustainable. Read More…
Topsy Tweet Count: 55
By: Nishadha Silva @rumblinglankan
#Gamification will give your business an edge over your competitors. @rumblinglankan
Click To Tweet
Previous Months:
2016
2015
Conclusion
Top 5 Gamification Articles Badge
For ranking in the top 5. These authors have been granted rights to use the Top 5 Gamification Articles badge. They may us it on any website of their choice. The badge size is 300 pixels wide by 250 pixels high. Just copy the generated code from "Embed This Image On Your Site" code box at the bottom of this post. Paste the generated code on your site.
Albert Mora @amoracarreno
Matthew Lynch @lynch39083
Asha Pandey @eidesignlearn
Justin Ferriman @learndashlms
Nishadha Silva @rumblinglankan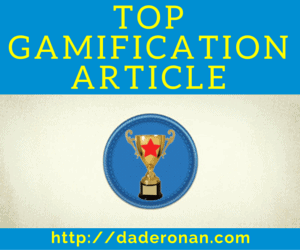 Do you have favorite gamification articles or blog post? Let me know what your Top 5 Gamification Articles are in the comments below.
Embed This Image On Your Site (copy code below):


Latest posts by Dade Ronan (see all)
Get more stuff like this
Subscribe to our mailing list and get interesting stuff and updates to your email inbox.
Thank you for subscribing.
Something went wrong.