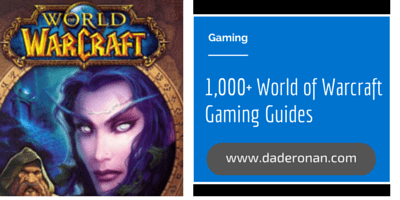 List of 1,000+ World of Warcraft Guides
Over the years, people have asked me various questions about video game guides.  Lately, it has been about World of Warcraft guides.  Back in the day I even endeavored to make a strategy guide about Day of Defeat.  Unfortunately, after researching for more information, I discovered that Prima Guides had already done that. Day of Defeat (Prima's Official Strategy Guide)
When I was in Jr. High School, I read a magazine article about a little known built in trick in Galaga.  I quickly applied that trick to the stand up arcade machine at my local 7/11 convenience store.  Low and behold, I played Galaga and flipped it over 3 times which took about 4+ hours…until it started smoking from the back.  The 7/11 store manager told me to leave and gave me back my quarter.
Game guides can be a great help to any gamer who either cannot figure out a hard spot in the game, needs to know the best path in the game for leveling or load outs, or hopes to discover something new they didn't know before.  Gaming guides are packed full of enlightening information.
While playing World of Warcraft (WoW), have you ever asked yourself, "How did they do that?" or "How did they get that?"  Maybe you have been having a hard time finishing a quest or something similar and you know that you lack all the information to complete it.  To give your WoW gaming the edge you need, here is a list of the best World of Warcraft guides I could find.
Please post in the comments about what you think of these 1,000+ World of Warcraft guides, if you found one that needs to be in the list, or if one really needs to be removed because of obscenity.  I greatly appreciate and value your contributions in the comments below.
[optin-cat id=600]

Latest posts by Dade Ronan (see all)
Get more stuff like this
Subscribe to our mailing list and get interesting stuff and updates to your email inbox.
Thank you for subscribing.
Something went wrong.