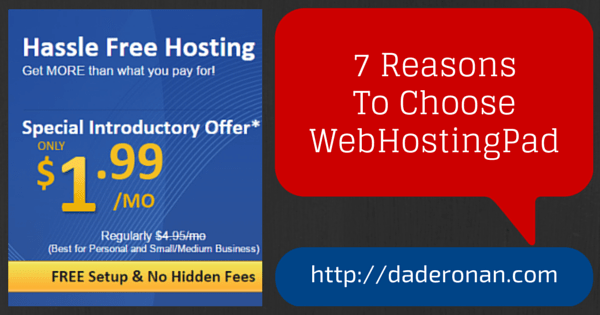 7 Reasons To Choose $1.99 WebHostingPad
Do you need a full featured web hosting company at the best price ever?  Here are 7 reasons to choose $1.99 WebHostingPad over other popular web hosts.
Over the years as an Analyst, Web Developer, and previously owner of a web developing company, I have used several different web hosting companies.  Through trial and error, I have narrowed it down to one.  My current site daderonan.com is hosted on WebHostingPad and is my main web hosting provider, which I highly recommend to everybody.
It is hard to find a web hosting provider who carries all the services and support, and at a great sale price too.  You know the old saying, "Bigger is Better".  Well in this case it is not.  WebHostingPad may not have as many customers as some of the other larger providers, but most of them do not provide the same level of high quality services and support either.  In fact, none of them can even come close to beating their price as well.
Summary
What are these 7 reasons to choose $1.99 WebHostingPad?  The first one is…you guessed it, Cost.  WebHostingPad is only $1.99 a month.  Their price point is one of the least expensive on the market.  The second reason is their Support.  With over 11 different support functions, I am really impressed by how they strive to provide superior customer support to all their clients.  The third reason is their Awards.  Companies don't just get awards for simply being in existence, they have to earn them.  WebHostingPad has earned over 33 different awards over the years and continue to be a leader in their market and recognized as such by their peers.  The fourth reason is their Iron Clad Guarantee.  Everybody loves a guarantee and WebHostingPad provides a 30 Day Money Back Guarantee along with 4 other areas of support such as a 99% Uptime Guarantee.  The fifth reason is their Web Hosting Features.  Many web hosting companies provide lots of features, but WebHostingPad actually offers features that will help your to business grow.  They only list 46 of them; I think it is because they are humble.  The sixth reason is their cPanel.  Every web host offers some sort of control panel to admin your website and some offer cPanel.  It is the opinion of this Analyst that cPanel is the best choice.  The cPanel system comes with over 72 different services.  Everything you need to effectively and efficiently admin your website.  The seventh and final reason is Softaculous.  With this script installing application, I can install all the main web applications that I need.  Applications like; WordPress, Joomla, Drupal, phpBB, SMF, osCommerce, and Megento.  The installation is so lightning fast; it will blow your mind how fast Softaculous can install these applications through scripting.  It usually takes me under 1 minute to configure and install WordPress.  Yes, I said that right, less than 1 minute.
So, that is a quick summary of the 7 reasons to choose $1.99 WebHostingPad.  After a careful evaluation of WebHostingPad's products and services, a result of those 7 reasons, personal experience as a web developer, and as a professional Analyst, I highly recommend WebHostingPad to be your next web hosting provider.  If you already have a web hosting provider that does not meet WebHostingPad's high quality of standards and $1.99 price of WebHostingPad, then you can transfer you website hosting over to them for free.
Now what are you waiting for, here is their link WebHostingPad.
Outline
Below is an outline and detailed view of the 7 reasons to choose $1.99 WebHostingPad.
Cheap Cost
Superior Support
Awesome Awards
Gigantic Guarantee
Hosting Features
cPanel Features
Softaculous Features
1. Cheap Cost
The only way to beat a $1.99 cost is free and that is not going to happen with a full featured hosting company.  There are many free web hosting companies out there on the web, but they do not allow for any sort of flexibility, customization, or proprietary ownership.  This is especially true if you need email capturing in order to send subscribers news about your products and services, or a shopping cart with credit card transactions, or hosting of files you need to either display on your site or the visitor needs to download from your site.  There are so many limitations from one of those freebee jobbers, I could go on and on…but I won't.
If you or your company has a tight budget, then $1.99 WebHostingPad is right for you.  If you want to fiscally conservative and responsible with your or your company's finances, then $1.99 WebHostingPad is right for you.  If you don't like getting ripped off for high priced products and no services, then $1.99 WebHostingPad is right for.
2. Superior Support
One of the greatest services a company can provide is in the area of support.  You can view their support information either from their contact page or their support page. WebHostingPad has 24×7 US based phone support.  Not outsourced to some other country like many other web hosting companies.  You can even call them toll free at 1 (877) 998 HOST.  If you are looking for a solid support system to your web hosting solution, then WebHostingPad is it.
How many ways does WebHostingPad provide support?  Let's take a look.
Write them at their corporate office in Buffalo Grove, IL.
Email for Technical Support, Sales Support, or Billing Support
Call toll free from the US or call from an international location.
Fax
Live Chat
Ticket System to submit a help/support request ticket
Knowledge Base
Billing System
Getting Started Wizard
Video Tutorials
News and announcement
3. Awesome Awards
WebHostingPad has 33 awards listed on their website, which makes me feel proud knowing that I use a hosting company that is recognized for their superior products and services.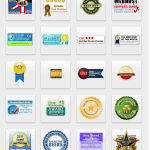 4. Gigantic Guarantee
Many hosting companies provide some sort of money back guarantee, but only WebHostingPad offers an Iron Clad Guarantee.  This guarantee includes 5 different areas that companies need.  Let's take a look.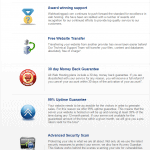 Award Winning Support, which I just spoke about
"WebHostingPad continues to push forward the standard for excellence in web We have been accredited with a number of awards and recognition for our continued efforts to provide top quality service to our customers."
"Transferring your website from another provider has never been easier before! Our Technical Support Team will transfer your files, content and databases absolutely free of charge*"
30 Day Money Back Guarantee
"All Web Hosting plans include a 30 day money back guarantee. If you are dissatisfied with your service for any reason, you will receive a full refund if you cancel your account within 30 days of the activation of your account*."
"Your website needs to be accessible for the visitors in order to generate sales. For this reason we offer 99% uptime guarantee. This means that the server your website is hosted on will be up and running at least 99% of the time during any 12-month period. If your server isn't available for the guaranteed amount of the time within a given month, we will give you a pro-rated credit for the time*."
"Protecting your site is what we are all about. Not only do we use the latest security measures to protect your server, we also have Access Guardian. This feature works behind the scenes scanning your site for vulnerabilities and openings that can be a potential 'hole' in your website."
Now what are you waiting for, here is their link WebHostingPad.
5. Hosting Features
So what kind of features and services does WebHostingPad provide?  Let's take a look.
Hosting Features

Hosting Space*
UNLIMITED
Monthly Bandwidth*
UNMETERED
Free Domain Name*
 
Free Sitebuilder
 
Host additional Domains

UNLIMITED

Email Accounts

UNLIMITED

Email Forwarders
UNLIMITED
POP & IMAP Supported
 
Email Autoresponder
UNLIMITED
Parked Domains
UNLIMITED
Subdomains
UNLIMITED
mySQL Databases
UNLIMITED
CGI-BIN
 
SSI (Server Side Includes)
 
Cpanel Control Panel
 
Webmail (Browser Based Email)
 
Log Files + Site Stats
 
Customizable Error Pages
 
Spam Protection
 
24/7 Customer Support
 
NEW! Softaculous Script Support
 
NEW! Now Featuring Cloud Linux
 
NEW! Access Guardian Security Scan
 

Bonus Features

Message Board
 
Form-mail Script
 
PHP Nuke
 
Message Board
 
Mailing List
 
Image Galleries/Coppermine
 
Mambo and Joomla
 
phpForm Generator
 
PHP/ Perl/ Python
 

Power Plan Plus Includes

SSL Certificate
 
SSH Access
 
Advanced Spam Filter
 
Advanced Web Stats
 
Business Directory Listing
 
Advanced Security Scan
 

e-Commerce Features

24/7 security server monitoring
 
Advanced Firewall
 
OS Commerce Shopping Cart
 
Password Protected Directories
 
Open PGP/GPG Encryption
 

Datacenter Technology

Dual Xeon Intel Raid Protected Servers
 
World Class Datacenter
 
Four OC-48 Connections
 
As you can see by this very large list of features, WebHostingPad has everything you need in a web hosting company.
6. cPanel Features
WebHostingPad uses a control panel for administrating your web host.  There is several on the market, but the one that I have come to like because of all the features they provide is cPanel.  Low and behold, WebHostingPad provides cPanel to admin your web host.  What an added bonus.
What features and services does cPanel provide that makes them so awesome?  Let's take a look.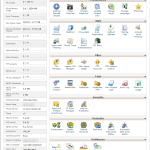 Going down the list from the center column services first, you can see all 69 services.
Special Offers Group

VPS Hosting
Barracuda Spam Filter
SSL Package
Free WordPress Themes

com Links Group

Billing System
Account Addons
Knowledge Base
Live Chat
Ticket System

Preferences Group

Getting Started Wizard
Video Tutorial
Change Password
Update Contact Info
Change Style
Change Language
Shortcuts

Mail Group

Email Accounts
Webmail
Forwarders
Auto Responders
Default Address
Mailing Lists
Account Level Filtering
User Level Filtering
Email Trace
Email Authentication
MX Entry

Files Group

File Manager
Legacy File Manager
Disk Space Usage
FTP Accounts
FTP Session Control

Logs Group

Latest Visitors
Bandwidth
Webalizer
Webalizer FTP
Raw Access Logs
Error Log
Resource Usage

Security Group

Password Protect Directories
IP Deny Manager
HotLink Protection

Domains Group

Subdomains
Addon Domains
Parked Domains
Redirects
Simple DNS Zone Editor
Advanced DNS Zone Editor

Databases Group

Softaculous
CloudFlare
CGI Center
Perl Modules
PHP PEAR Packages
RubyGems
Ruby on Rails
Optimize Website
RVSiteBuilder
Select PHP Version

Advanced Group

Apache Handlers
Index Manager
Error Pages
Cron Jobs
Network Tools
Submit a Support Request
MIME Types
On the left side column of the cPanel, you will find the 3 additiona groups.  The first is Notices Group, where the web hosting company may place a note to inform the administrator of something.  I have seen Notices used before, but mainly in regards to server updates and as a result of server updates, there may be a short outage like a couple of minutes.  No big deal.  Next is the Find group.  This is a simple search field to find a particular function, features, or service.  Lastly, is the Stats Group.  There are tons of statistics that can be viewed.  What stats are shown?  Let's take a look.
Main Domain
Home Directory
Last Login From
CPU Usage
Virtual Memory Usage
Entry Processes
Disk Space Usage
Monthly Bandwidth Transfer
Email Accounts
Subdomains
Parked Domains
Addon Domains
FTP Accounts
Mailing Lists
All SQL Databases
MySQL Databases
MySQL Disk Space
Mailing List Disk Space
Hosting Package
Server Name
cPanel Version
Theme
Apache Version
PHP Version
MySQL Version
Architecture
Operating System
Shared IP Addresses
Path to sendmail
Path to Perl
Perl Version
Kernel Version
CPanel Pro
So, you can see that WebHostingPad's cPanel has everything you need to effectively and efficiently admin your web host.  Now, suppose you want to read the full Interface Documentation.  Well, just click the Help icon at the top right hand corner and you have full access to that as well.
7. Softaculous
One of the great powerhouse services that cPanel has in its arsenal is Softaculous.  It makes adding websites super easy.  If you want to add a blog site using WordPress, or a Content Management System using Joomla or Drupal, or a Forums using phpBB or SMF, or anything else that they provide, then this is the service that performs that function.
"Our founder Alons made this remarkable software Softaculous which allows users to install softwares in just one step." (WebHostingPad)
WebHostingPad has 38 specially selected scripts from 13 different categories inside Softaculous.  What are the 38 specially selected Scripts?  Let's take a look.
Blogs Group
Portals/CMS Group

Drupal
Joomla
PHP-Nuke
Tiki Wiki CMS Groupware 9

Forums Group
Image Galleries Group

Gallery
Coppermine
ZenPhoto
Plogger

Wikis Group
Calendars Group

WebCalendar
Booked
ExtCalendar
phpicalendar

Polls and Surveys Group

LittlePoll
phpESP
Aardvark Topsites

Project Management Group
E-Commerce Group

OpenCart 1.5
PrestaShop
Magento
osCommerce
Zen Cart
CubeCart

ERP Group
Guest Books Group

Advance Guestbook
Lazarus
BellaBook
phpBook
PHPKode Guestbook
VX Guestbook
RicarGBook

Educational Group
Other Group
Final Thoughts
Those are the 7 reasons to choose $1.99 WebHostingPad?  If you are looking for a quality web hosting provider, then $1.99 WebHostingPad is it.  With its $1.99 Cost, its superior Support, its awesome Awards, its Iron Clad Guarantee, all of the features they provide, all of the features cPanel provides, and all of the features Softaculous provides makes $1.99 WebHostingPad the right choice for web hosting.
Now what are you waiting for, here is their link WebHostingPad.

Latest posts by Dade Ronan (see all)
Get more stuff like this
Subscribe to our mailing list and get interesting stuff and updates to your email inbox.
Thank you for subscribing.
Something went wrong.