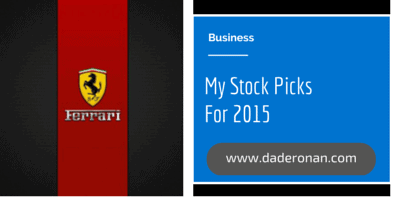 Stock Pick 2015 Ferrari
Own Ferrari With My Stock Pick For 2015
Looking at my portfolio of stocks for the 2015 year, I am picking a new one. Why I made Stock Pick 2015 Ferrari. What, Ferrari is not a stock? It will be as soon as  Fiat Chrysler Automobiles FCAU spins off Ferrari as a separate unit in an initial public offering at a 2 for 1 deal in 2015.
Existing investors will receive one share of Ferrari and one share of Fiat Chrysler for each Fiat Chrysler share when the spinoff takes effect, according to Jonas. (Morgan Stanley: Buy Fiat Chrysler, Get Ferrari Stake)
There has already been so much buzz about this offer.  These are like the type of opportunities you only read about.  Well, 2015 will the year you too can own Ferrari.  Currently, FCAU is already a really cheap stock.  I think the prospect for this pick is gold.
My stock pick for 2015 was going to be NVIDIA NVDA, for it is the front runner in chip processing of all auto-pilot vehicles.  I think NVDA will be a great one for maybe 2016 after all the bugs are worked out and mass production is on the horizon.  I had Ford F stock that I recently sold for a pretty good profit, but for the last year or so it sort of plateaued.  I bought my Ford stock when it was around $12.00 and I really liked the idea of owning stock in an American automaker.  With Ford's flat returns, I decided that I wanted to reinvest those profits into something with a greater prospect.  What kind of outlook will FCAU bring?
So based on Friday's information for the American depositary receipts, Fiat is among the cheapest if we take P/E ratios out to 2016. Analysts expect the company's earnings to more than double in 2016. (Should You Buy Fiat Chrysler's Stock?)
Well, should you?  Should you buy FCAU?  I say buy and be bullish for several years on this one.  How can you beat a 2 for 1 deal.  That is my stock pick for 2015 and I hope it will help your financial portfolio to be Totally Awesome.
NOTE: I am not a Licensed Financial Dude. So, before you start making any financial changes, please consult a financial expert.
Do you want to buy a Ferrari, Bugatti, Porsche, or some other exotic vehicle to actually drive?  Maybe you are in the market for a boat or a motorcycle, or even some jewelry. You can at these government auctions and get a real steal of a deal as well.
Here is my list of the Top 6 Government Auction sites:

Latest posts by Dade Ronan (see all)
Get more stuff like this
Subscribe to our mailing list and get interesting stuff and updates to your email inbox.
Thank you for subscribing.
Something went wrong.