Why does our attitude change around Christmas time?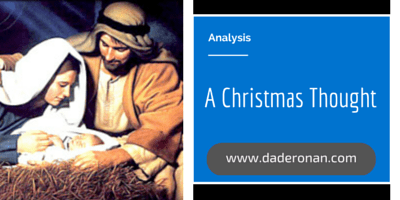 2014 Christmas Thought
While thinking about our attitudes around this time of the year, I had a 2014 Christmas thought.
Christmas is a short period of time when our hearts are filled with love, giving and remembrance of the birth of our Lord and Savior Jesus the Son of God.  Unfortunately for most, that attitude is for a short period of time.  Even though Christmas comes once a year, Christmas your attitude should be daily.
Psalm 97:12  Rejoice in the LORD, you righteous, And give thanks at the remembrance of His holy name.

Latest posts by Dade Ronan (see all)
Get more stuff like this
Subscribe to our mailing list and get interesting stuff and updates to your email inbox.
Thank you for subscribing.
Something went wrong.